It starts with one desire
Your primary motivation for cosmetic dentistry is perhaps to improve your smile. The desire for an attractive, perfect-looking, "Hollywood" smile is common.
White, straight teeth and healthy looking gums are the ultimate benefits. And each of these can be achieved with a variety of cosmetic dental procedures.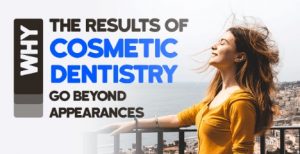 What's your motivation?
Cosmetic dentistry is both art and science. The art has to do with your appearance and smile enhancement goals. The science involves restoring the health of your teeth and gums.
Tooth damage and flaws treated with cosmetic dentistry can include:
Teeth that are cracked, fractured, or chipped

Teeth that are yellow, stained, discolored, or dull looking

Teeth that are misaligned, crooked, or uneven

Teeth that are missing or severely damaged by decay or trauma

Teeth that are worn or misshapen

Teeth that appear long, short, or pointed
Cosmetic dental treatment repairs and restores your teeth. An oral examination and consultation answers your cosmetic dentistry questions and determines your personal treatment plan. Recommended procedures will restore your oral health and create your new smile.
In case you're wondering where to start
Again, the best place to begin is with a comprehensive oral examination. The current health of your teeth and gums will help prioritize your cosmetic treatment plan.
Here are a few oral health problems that cosmetic dentistry can solve.
If your teeth are damaged…
Dental bonding is a simple and easy cosmetic procedure that repairs the visible surface areas of your teeth. The tooth-colored material can be applied (bonded) to the front and/or sides of your teeth.
Restore the natural shade and color of your damaged teeth

 Close gaps between your teeth

 Repair and restore teeth that are cracked or chipped
If your teeth are crooked or misaligned…
Invisalign®️ straightens your teeth without the use of unattractive or uncomfortable wires and brackets. The orthodontic treatment uses clear, virtually invisible aligners. Your smile remains intact while the treatment is gradually moving your teeth into a proper, healthy, and attractive alignment.
Your Invisalign®️aligners are custom-crafted to fit your unique tooth shape and bite. Small adjustments are made to your teeth with each set of aligners during your treatment.
Invisalign®️is…
Unnoticeable and has a low-impact on your lifestyle

Comfortable to wear

Removable for eating, brushing, and flossing
If your teeth are flawed…
Porcelain dental veneers cover the front surface of your smile-zone (front) teeth. Each veneer is custom-fitted and will correct common tooth flaws such as…
Large spaces and gaps between your teeth

Teeth that are severely stained or discolored

Teeth that have an irregular shape

Slightly crooked teeth

Broken, chipped, fractured, or worn teeth
If your teeth require multiple cosmetic treatments…
A smile makeover is a comprehensive treatment plan. It's personally designed to restore the health and appearance of your teeth using specific restorative and cosmetic procedures.
Your smile makeover can correct dental conditions that include:
Missing or severely worn teeth

Teeth that are broken, chipped, misshapen, or fractured

Decayed or damaged teeth

Teeth that are stained and discolored

Crooked teeth
Your smile makeover treatment plan can involve dental procedures such as dental bridges, dental crowns, dental bonding, porcelain dental veneers, dental fillings, teeth whitening, full or partial dentures, and dental implants.
If your teeth are stained and discolored…
Teeth whitening is a fast solution for brightening the appearance of your smile. Your teeth can become stained over time. Some common reasons include:
Aging

Foods and beverages (especially tea, coffee, wine, and soft drinks).

Smoking and tobacco use

Poor dental hygiene

Certain medications
Most often, one professional teeth whitening treatment is all that's necessary. You can leave your appointment with noticeably whiter teeth. A take-home whitening kit (with customized whitening trays) can be provided for ongoing smile maintenance.
As you can now see, there's more to cosmetic dentistry than you might have realized.
Contact your St. Petersburg Cosmetic Dentist Specialist, Dr. Roberto Macedo, DDS, MS, PhD. about restoring and improving the health and appearance of your teeth. Schedule your initial consultation to discuss cosmetic dental procedures.