It's said that "timing is on your side." That's especially true about increased awareness of oral cancer and the opportunity for an oral cancer screening.
The facts about oral cancer and its symptoms are a healthy motivation. According to the Oral Cancer Foundation thousands of deaths happen annually as a result of the disease.
And many of those fatal outcomes could be prevented.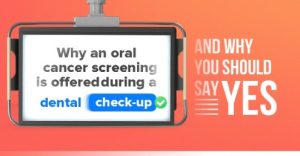 It's time for awareness
The good news is that oral cancer can be prevented. And prevention begins by being aware of the causes and symptoms and how they affect your mouth and overall health.
Oral cancer can invade areas of your mouth including your tongue, throat, neck, and jawline.
Lifestyle tops the list of causes in over 90 percent of oral cancer diagnoses.
Tobacco and alcohol use. Data also reveals that oral cancer is being discovered among non-tobacco users and among those who rarely or infrequently consume alcohol.

The human papilloma virus (HPV16) is present in an increasing number of cases. HPV ranks as the top source of oral cancer cases.

 Diet, poor oral hygiene, and over exposure to ultra-violet radiation round out the list of causes.
How to be alert and prepared about oral cancer
Oral cancer warning signs shouldn't be ignored. Your mouth, tongue, and throat will reveal certain changes if oral cancer is present.
In this instance, pain might or might not occur. It's essential to notice any sores, lesions, or areas within your mouth that are slow to heal.
Symptoms to observe include:

Red or white skin patches in your mouth or on your tongue

A lump or thickened area of skin on your tongue

Feeling numbness in your mouth, neck, or face

Having the sensation that something is caught in your throat

Mouth bleeding

A sore throat that persists
Staying aware of oral cancer risks
Your routine dental examinations and teeth cleanings are key to oral cancer awareness. These check-ups provide a thorough inspection of any abnormalities in your mouth region.
Oral cancer screenings are also recommended. The screening is quick, painless, and saves time when you include it in your dental check-up.
An oral cancer screening can detect any abnormal tissue within your mouth, on your tongue, and in your throat. Suspicious tissue can be biopsied to determine if any additional treatment is necessary.
Schedule an oral cancer screening as your first-line-of-defense against oral cancer risk.
Contact your St. Petersburg cosmetic dentistry specialist, Dr.  Roberto Macedo, DDS, MS, PhD. about any questions or concerns you have about oral cancer. Schedule your next dental examination and ask about an oral cancer screening.