Dental problems begin and end differently. But either way, they impact your health and your confidence to smile.
Preventive dentistry such as daily oral care and routine dental check-ups help you stay ahead of the curve. Adding restorative dentistry and cosmetic dentistry to the equation creates a healthy triad.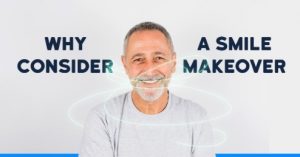 A comprehensive solution for a healthy, new smile
Your smile doesn't become unhealthy or unattractive overnight. Often a single missing tooth, damage to a particular tooth, decay, or teeth that become misaligned will start the downward trend.
You might not notice these risky changes immediately. Then one day you feel pain or are unable to chew or eat comfortably.
Each condition alone can cause oral health problems. Untreated, they can worsen and give you less reason to smile due to embarrassment or pain.
A smile makeover provides a specific solution for each problem. Your diagnosis and recommended procedures form a comprehensive treatment plan.
Step by step, your health and smile will be restored.
Common problems solved by a smile makeover
              Missing teeth

              Chipped, broken, or worn teeth

              Misaligned, crooked teeth

              Chronic head, neck, or jaw pain
Your experience with any of these are a good reason to schedule an examination. As symptoms worsen without treatment your problems could multiply and so could your costs.
How a smile makeover is the perfect solution for health and smile renewal
Your treatment most often uses restorative dentistry and cosmetic dentistry procedures. Blending these treatments solves your health and appearance issues.
The first step is an oral examination. Your exam gives us the essential information to create a treatment plan that's tailored to your unique conditions and the priority for each procedure.
Your smile makeover can include a variety of treatment options.
Tooth decay and damage can be treated with dental crowns, dental fillings, and inlays and onlays.

Misaligned or crooked teeth are straightened with orthodontic treatment including Invisalign®️.

An infected tooth or teeth can be saved from an extraction with root canal therapy.

Missing or damaged teeth can be replaced with

dental implants

, a dental bridge, or dentures.

 Stained or otherwise unattractive teeth can be transformed with professional teeth whitening, porcelain veneers, or

dental bonding

.
Keep in mind that your smile makeover occurs in stages depending on the condition of your teeth and gums.
The good news…
When completed your tooth function and confidence to smile will be fully restored.
Contact your St. Petersburg Cosmetic Dentist Specialist, Dr. Roberto Macedo, DDS, MS, PhD. about your damaged and unattractive teeth. Schedule an examination and treatment consultation to discover how a smile makeover can restore your health and confidence.