Easy isn't always better. But in the case of All-on-4®️dental implants it is!
The security of dental implants combined with advanced technology give new life to tooth replacement. All-on-4®️ dental implants are a simple and fast missing teeth replacement.
The procedure is versatile enough to replace missing teeth in your upper and/or lower jaw. And it's also a perfect alternative to traditional dentures.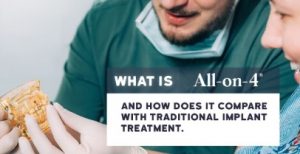 The treatment supports an entire section (arch) of teeth using only four dental implants. Each implant is strategically placed in your upper or lower jaw.
The best part…
The procedure immediately restores your missing teeth. And the All-on-4®️ implants look, feel, and function like your natural teeth.
Why All-on-4®️ is a secure choice for replacing missing teeth
Your procedure uses four titanium implants. Each are placed into your jaw at a designated location to create a secure foundation for your new teeth.
A natural looking, full set of teeth are secured to the implants on the surface.
Also, bone loss can be overcome with the All-on-4®️ treatment. Each implant can be placed at slight (45 degree) angle. This saves time by eliminating the need for a bone graft.
All-on-4®️ or traditional dental implants?
Your All-on-4®️ treatment is different from a standard implant procedure. The four strategically placed dental implants are capable of supporting a full set (arch) of new teeth.
Often, traditional implant treatment can require more than four single implants to secure a full set of teeth. The All-on-4®️ procedure relies on the advantage of placing the two back implants at an angle.
You can expect your results to be equally as durable and long-lasting. Plus your treatment time will be much faster than with traditional implants.
You could have your new replacement teeth added the same day following implant placement. Your ability to eat and chew can be enjoyed much faster with the All-on-4®️ implant procedure.
All-on-4®️ is a good choice…

If you need to replace the majority of your natural teeth

If you have less available bone tissue and cannot have a bone graft

If you have a thorough examination to discuss your tooth replacement

If you desire to replace your missing teeth without dentures or the time required by a standard implant procedure

If you want to save on costs compared with traditional dental implants
Contact your St. Petersburg Cosmetic Dentist Specialist, Dr. Roberto Macedo, DDS, MS, PhD. about your missing teeth. Schedule your initial consultation and examination to discuss tooth replacement with All-on-4®️ dental implants.